"For a first get-together, it's best to come to Alicante so you understand how we work." Carolin and I look at each other in disbelief, only to perform an inner joy dance milliseconds later. For our new customer we are allowed to fly to the southeast of Spain. Olé! Why not combine the useful with the beautiful on this occasion and extend your stay for a few days? Instead of taking a couple of days off, we opted for a home office abroad – a model that is already exemplified by Miriam at Mashup Communications and also permitted to the consultants.
Travelling the world and digital nomadism: Mashups DNA for global working
Wanderlust is a fundamental part of the Mashup DNA: Miriam commutes regularly between Berlin and Cape Town and Nora has already been on two world trips. So both do understand, if their employees experience the wanderlust-nostalgia or are overwhelmed by Berlin's gray blanket in winter times. Since they know that traveling and work life do not contradict each other, they even encourage us to leave the country and work remotely. In addition to a regular home office day per week, we also have the opportunity to exchange the desk at home for a place in the sun. One week "El trabajo en Alicante" was a good test for Carolin and me to find out if working abroad would generally fit us. With Nora's tongue-in cheek, to not only do siesta there, we began preparing for our sunny home office in Alicante.
Hello from the other side: Just like that, the dream of the digital office comes true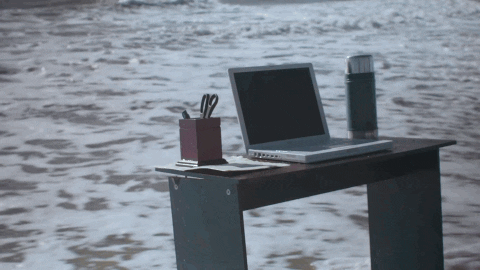 A prerequisite for smoothly working in the distance is, of course, an Internet connection in order to stay in contact with the home base. So we opted for an Airbnb apartment in the old town of Alicante, but with a large terrace and two balconies. We already saw each other slightly tanned with the Macs on our laps tackling our daily to-dos. Muy bien! The advantage compared to a co-working space was: In our own "apartamento" we were able to work undisturbed, cook, eat and even take a break – whether in pajamas or sloppy sweatpants. Since our meetings are often held by messenger anyway and we share our documents via Dropbox, we were always involved in real time with everything happening in Berlin. Even communication with clients via e-mail went smoothly and some journalists even congratulated us on this wonderful opportunity.
Apart from the fact that on the second day our rental car was towed and we spent a morning with the return (sì, own fault!), we were just as productive as in Berlin. Moreover, the change of scenery helped us with being more creative for exciting new stories for our clients. Sometimes a spatial distance helps to get even closer in terms of content.
Efficiency despite or because of the beach and sights
Although it was very tempting, we did not allow ourselves to be affected by the noticeable "Mañana, Mañana" feeling. Rather, the beach and the sights on the doorstep inspired us to get up early, get started and work through stringently to enjoy a premature end of work. Thanks to Wi-Fi, it was also possible to work well on the large roof terrace, which we only had to share with the local resident cats. In addition, it was just great that we could motivate ourselves as a couple and distracted ourselves during working hours from the sun, the sea and the Spanish way of living. Our conclusion for a longer away-from-home office is therefore: With good preparation, digital communication channels and a flexible team, the balancing act between the desire to travel and the workload is effortless. The only downside: The rest of the team was so far away and we unfortunately couldn`t share our adventure together!
In this spirit: