Brand Storytelling
Campfire – Employer Branding
8 June 2017
Spread the Love: Employer Branding with Storytelling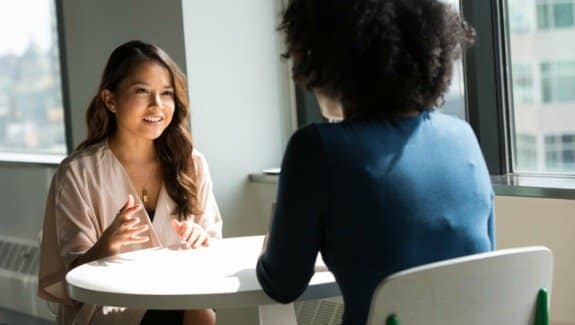 During our last feedback lunch, an employee told me that she was approached by another company looking for a PR manager. She was intrigued, so she agreed to have an interview to see what her tasks and work environment would be like. She quickly found out that things which are essential to us, like doing home office, were not appreciated there. In general, the company worked rather by the motto "control is better than trust". This was when she realized that company culture was more important to her than the topic she worked on.
Storytelling and Recruiting: What makes your company attractive?
I have been the CEO of Mashup Communications for seven years now and since then I have never seriously considered switching to another company. But sometimes when I read job ads or company profiles, there are moments in which I think: If I didn't already have a cool job in my company I would apply or just check it out for a few days.
What are the factors that make a company attractive for possible employees? What stories does an enterprise has to tell, to transport their values and build a lasting employer brand? Interestingly, while thinking about good examples for employer branding with storytelling, I came up with three companies that all focus on the topic love. Maybe they just know how this whole love making and sharing works.
Visual Storytelling: Clue focuses on their hero employees
Employees are the most important heroes and best storytellers at the same time when it comes to creating an authentic brand as an employer. Instead of theoretical arguments about the company culture, employee stories give a face to the company and are more concrete, wholesome and emotional – in short: they are everything that makes storytelling successful.
It seems like the Women's health and menstrual cycle tracking app Clue knows this. When looking for new team members the Berlin-based company created the recruiting video "Working at Clue". The clip lets employees talk. Statements like "I take my bike to work", "I bring my dog to work" or "On my first day of my period, I usually work from home" show that Clue cares for the personal needs of its employees and respects them. Like for example Data Scientist Daniel that states "I have a bad back" while stretching on the office carpet. Android Engineer Eugenio confesses that he drinks way too much coffee – no wonder considering the professional coffee maker Clue offers. Last but not least lactose intolerant iOS Developer Martin fetches his soy milk from the fridge.
The fact that employees talk about their workplace while their statements are visually backed up make the company feel approachable. So the statements seem more credible than CEOs talking about the benefits for employees.
Brand Storytelling: Communicating Company Values is more important for einhorn than bragging about salary
Where does a company come from? Where does it want to go? What obstacles does it face and which role does the company want to play in a new world? These and other questions of brand storytelling are equally relevant for employer branding. For a company, a consistent web of values is essential to give current and future employees something to identify with. According to a study, professional beginners would accept a lower income if they can work for a company that shares their values.
A good example of living and communicating company values is the company einhorn. Founded at the beginning of 2015, the Berlin-based startup sells fair and sustainable condoms. The founders defined their values even before founding the company. "Fairstainability" is the first value. It is a word creation of fair and sustainable that means that no matter what einhorn does, it has to be fair and sustainable. The second core value is "unicornique". A play on the words unicorn and unique that means that every employee can object if he thinks something is too boring. The last value is defined as "fug: fight and hug". So it transports an open debating culture where everyone is allowed to fight but has to hug afterwards.
Besides that, the company takes social responsibility. Therefore they hire refugees to do their part in integration. Moreover, they create a working environment based on participation and transparency (even on financial matters) and the team decides on vacation time and salaries. The founders of einhorn believe that an open and honest workspace helps people enjoy their work and have fun doing it.
All this is communicated openly at their website. Looking at the presented company values every potential applicant knows instantly how the founders and the team tick and what matters to them. Who works towards the same goals in life will not hesitate to apply.
Like looking for a partner: Storytelling in job ads invites applicants to fall in love with "im gegenteil"
Besides transporting their values, companies often face the challenge of phrasing job ads in a way that applicants understand the requirements. But at the same time get a feeling for the spirit and values that matter. Professional beginners, in particular, have trouble deciphering the vague set phrases of job ads and understand what kinds of talents are required for the job and what is expected of applicants.
A job ad to fall in love with comes from the online magazine "im gegenteil" that was looking for new interns. "Do you want to make love to us?" is written in bold letters across the image of the founders Jule and Anni. Followed by "We are looking for support – down below, up above and at the office". This alone shows the humor of the team. And it is consistently worked into the whole ad. Starting with GIFs and hidden jokes and being present through the whole tone.
I quote: "Of course we laugh, fool around hard and eat tons of cake. But our main task is teaching you something and in the best case grow together. Are you in for professional work?" And "If we get the feeling that there is a special vibe between us, we get in touch within 14 days. If not, we still love you like crazy. We are looking forward to meeting you, you hidden gem!"
Most of all, what makes this ad special is the constant connection to the topic love. Coincidently it is the main focus of the blog for singles, mingles and couples. At the same time they ensnare the new team member so elegantly that he or she feels loved and wanted before writing the first sentence of the application.
*Quelle: Net Impact, Talent Report: What Workers Want 2012 (2012)
---
---